Arlington has seen the greatest growth in people living alone of 342 U.S. cities.
That's according to a new study by the website SmartAsset, which examined census data between 2016 and 2021.
Arlington is No. 1 on the list and neighboring Alexandria is No. 2, at a 3.54x and 2.98x increase of people living alone, respectively. In Arlington, about 42% of households only had one resident as of 2021.
"The rate of single people who live alone is rising dramatically in some U.S. cities," a SmartAsset spokesman wrote. "Our findings show Arlington and Alexandria ranked among the top five cities where households changed the most."
More from SmartAsset's findings:
On average, the rate of single people living alone jumped to 28%. Five years prior, that figure was 24%. In Arlington, VA, which had the most drastic increase, the proportion of people living alone jumped from 11% to 41%.

Single people make up nearly half of households in these cities. The largest single populations across men and women are Washington, D.C. (48.23%); St. Louis, MO (47.49%); Alexandria, VA (46.52%); Richmond, VA (46.23%); Cincinnati, OH (46.20%); and Cleveland, OH (46.20%).

In the D.C. area, more than 25% of households are single women. Single-woman households are most prominent in Richmond, VA (28.00%); Washington, D.C. (26.74%); and Alexandria, VA (26.23%). These areas also saw the largest increases in the proportion of single women living alone over five years, with greater than 15% of households added to this cohort. Other areas with large bachelorette populations include St. Louis, MO (25.70%); New Orleans, LA (25.70%) and Cincinnati, OH (24.63%).
It's perhaps worth pointing out that the end year of the study period, 2021, was in the midst of the pandemic — which might have prompted some to exit roommate situations.
0
Comments
Route 50 Trail Funding Sought — "County Board members on Sept. 23 included a request for up to $4 million to build the trail, which would run on the south side of Arlington Boulevard from South George Mason Drive (at the National Foreign Affairs Training Center) east to South Glebe Road (where the local Goodwill store is located)." [Gazette Leader]
Arlington Makes Fall Travel List — "Explore the awe-inspiring show put on by Mother Nature every fall in Arlington. The county is chock full of fantastic places to see the changing colors, including the walking trails at the Long Branch Nature Center, Mount Vernon Trail, and at the Potomac Overlook Regional Park." [Travel + Leisure]
County Seeks Firehouse Memorabilia — "The Arlington County government is on the hunt for memorabilia and artifacts to be put on display once the new Fire Station #8 opens… 'We would love to display your photographs, awards, artifacts, mementos and more,' noted the Fire Station #8 History and Legacy Committee, which is working with the county library system's Center for Local History on the effort." [Gazette Leader]
Expungement Clinic This Weekend — "The Office of the Commonwealth's Attorney for Arlington County and the City of Falls Church and the Clerk of the Circuit Court are hosting their second annual Expungement Clinic on Saturday from 10 a.m. to 1 p.m. The expungement clinic will provide everything attendees need to request arrests that did not result in convictions be removed, or expunged, from their record." [Patch]
Amazon Facing Antitrust Suit — "The Federal Trade Commission and 17 state attorneys general filed a sweeping antitrust lawsuit against Amazon Tuesday seeking to bar the company from allegedly abusing its powers to raise prices for shoppers and levy high fees against businesses that sell on its platform." [Washington Post]
It's Wednesday — A partly sunny fall day with a high temperature near 65 degrees and a gentle northeast wind at approximately 8 mph. As night falls on Wednesday, expect mostly cloudy skies with the temperature dropping to around 54 degrees. [Weather.gov]
2
Comment
Discover Healing and Renewed Well-Being through Psychotherapy
Life's challenges can sometimes feel overwhelming, leaving us with feelings of anxiety, depression, and uncertainty. That's where psychotherapy can make a profound difference. Our dedicated team of experienced therapists is here to guide you on a journey towards emotional and mental well-being.
Each week, "Just Reduced" spotlights properties in Arlington County whose price have been cut over the previous week. The market summary is crafted by Arlington Realty, Inc. Maximize your real estate investment with the team by visiting www.arlingtonrealtyinc.com or calling 703-836-6000 today!
Please note: While Arlington Realty, Inc. provides this information for the community, it may not be the listing company of these homes.
As of September 25, there are 156 detached homes, 30 townhouses and 173 condos for sale throughout Arlington County. In total, 28 homes experienced a price reduction in the past week, including:
Please note that this is solely a selection of Just Reduced properties available in Arlington County. For a complete list of properties within your target budget and specifications, contact Arlington Realty, Inc.
0
Comments
Under the direction of Maestro Sergio Alessandro Buslje, the Latin Grammy nominated Pan American Symphony Orchestra presents Concierto de Nacar for tango ensemble and orchestra by the master of nuevo tango, Astor Piazzolla, featuring his signature melodies and extended harmonies
Good Tuesday evening, Arlington. Let's take a look back at today's stories and a look forward to tomorrow's event calendar.
🕗 News recap
The following articles were published earlier today — Sep 26, 2023.
📅 Upcoming events
Here is what's going on Wednesday in Arlington, from our event calendar.
🌦️ Wednesday's forecast
Expect patchy drizzle and isolated showers before 9am, followed by mostly cloudy skies and a high temperature near 65 degrees. The northeast wind will be around 8mph, with a 20% chance of precipitation. Wednesday night will remain mostly cloudy, with a low temperature around 54 degrees and an east wind at around 7mph. See more from Weather.gov.
💡 Quote of the Day
"Live as if you were to die tomorrow. Learn as if you were to live forever."
– Mahatma Gandhi
🌅 Tonight's sunset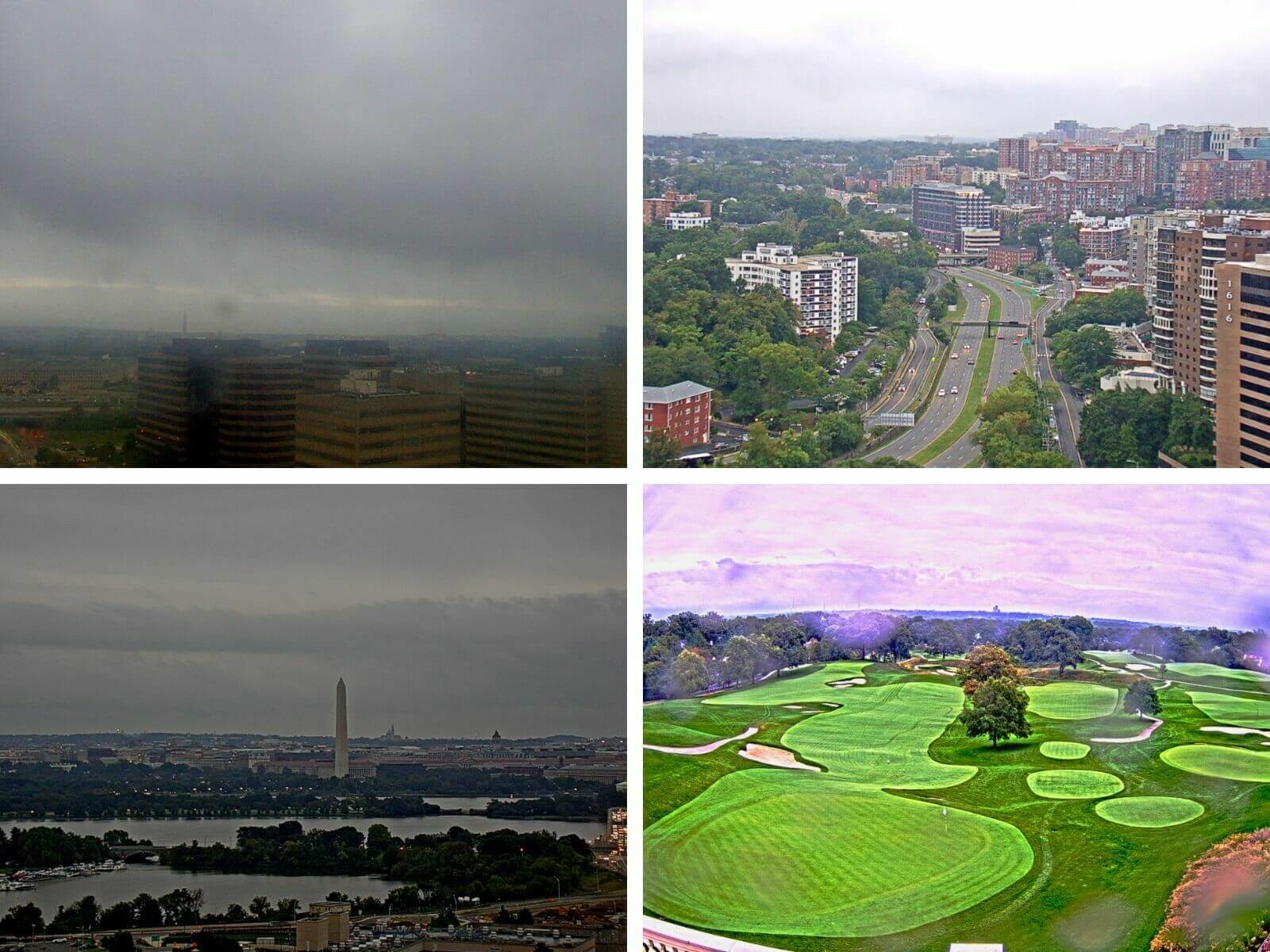 Thanks for reading! Feel free to discuss the day's happenings in the comments.
0
Comments
Step inside a cult-classic inspired world at DC Fray's can't-miss Halloween party packed with endless references to iconic films and music from the '80s and '90s.
Vibe to retro sounds and live performances, indulge in signature spooky cocktails and food, showcase your artistry at our local maker market, and create FOMO through insta-worthy installations, pop-ups, activations and more.
Better yet, win prizes to take home with your most cult classic-inspired costume. Get $10 off your ticket by taking advantage of early-bird pricing.
Miss this event at your own peril… 👻
The restoration of Ballston Wetlands Park is officially complete and the park is now open to the public.
Arlington County officials and community members marked the occasion today (Tuesday) with a ribbon-cutting.
The rain-soaked event marked the end of a $4 million renovation project that transformed what was formerly known as Ballston Beaver Pond — until the departure of the beavers — from a sludge-filled area into a natural stormwater filtration system and wildlife refuge.
"Over the years, sediment, trash, and invasive plants essentially filled the pond," County Board Chair Christian Dorsey told a crowd of attendees. "Now, cleared of that sediment and other debris, this retrofitted wetland system not only improves stormwater flow and filtration but also captures trash, serving as both a wildlife refuge and a natural respite within our urban village of Ballston."
Initially built in 1980 as a stormwater detention facility for runoff from I-66, the pond gradually evolved into a haven for local wildlife. By the 1990s, species such as beavers, muskrats, geese, herons, egrets, red-winged blackbirds, fish and turtles had migrated to the area.
Dam-building activities by the beavers, however, interfered with the site's original drainage systems. When the beavers eventually left, the county took the opportunity to make necessary improvements.
Planning for the renovations dates back to 2011 but it took a decade for the work to kick off in December 2021. Acquiring the necessary easements took about eight years and Covid further delayed the project.
The site now features new informative signage, educational exhibits and thousands of native trees and plants. Logs for turtles to sun themselves, dubbed "basking stations," have also been added.
There is also a hidden feature to manage beaver activity going forward. The county installed a secondary, concealed pathway for water to flow out and bypass their dams, a solution known as a "beaver baffle."
That may be prescient, given some reported beaver sightings, Lily Whitesell, a stormwater outreach specialist with Arlington's Dept. of Environmental Services (DES), told ARLnow. Perhaps the beavers moved back to enjoy the upgrades to their old habitat.
Jason Papacosma, a DES wetlands project manager, said the project extends beyond local restoration efforts and contributes to the broader clean-up of Chesapeake Bay.
"This is a project that gives us credit for our obligations to clean up the Chesapeake Bay. And in terms of all the progress we've made to date, this project gives us at least 10% of that overall progress," Papacosma said.
Demetra McBride, bureau chief of the county's Office of Sustainability and Environmental Management, acknowledged that while the site was not originally an "environmental asset," it has now become one.
"I realize that this is not a natural asset… But the community, going back as far as 10 years, wanted more. The leadership of Arlington inspired more. And your public servants and their contractors delivered more," she said during the ceremony.
0
Comments
A Wakefield High School freshman named Jorge Chavarria Rodíguez died Thursday evening, according to several sources.
The 16-year-old attended Barcroft Elementary School and Kenmore Middle School and had just started his 9th-grade year at Wakefield, per an email from Wakefield Principal Peter Balas to the school community.
"Jorge was a beloved member of the Wakefield, Kenmore, and Barcroft families, and impacted the lives of many of our students and staff members," Balas said in the email, which Arlington Public Schools provided to ARLnow. "He was excited and happy to join the Wakefield family, with staff recalling his genuine smile."
This marks the second death of a Wakefield student this calendar year. APS confirmed on Monday, a school holiday, that Jorge was not on school grounds at the time of his passing.
Arlington County Police Department spokeswoman Ashley Savage said police found a deceased teen last Thursday at an apartment building in the 5100 block of Columbia Pike. Officers were dispatched just before 8:30 p.m. on Thursday for the report of an unresponsive person on the ground.
First responders reported that the person was dead upon their arrival on scene, according to scanner traffic.
Now, ACPD is conducting a death investigation and the Office of the Chief Medical Examiner will determine cause and manner of death. She noted a preliminary investigation "has not revealed an ongoing threat to the community related to this incident."
In a GoFundMe page created by Jorge's mother, Luz, she writes in Spanish that she is living through the worst pain a mother can experience. She says her biggest wish is to give him the final goodbye he deserves as a beloved son.
An English-language description below describes Jorge as "a happy and playful child, a good student and an excellent son."
"My heart is broken knowing that his dreams will not come true and that his life was short," she says. "I thank you in advance for your expressions of affection and collaboration. I wouldn't wish this pain on anyone. May my little Jorge rest in peace."
Over the weekend, a tribute to her son, made of flowers and saint candles, started growing around a tree across the street from the Columbia Pike Plaza shopping center. The GoFundMe, meanwhile, has circulated on social media and received some 265 donations, totaling more than $13,000 of the $25,000 goal, as of publication.
When a community loses a child , we come together to support the best we can. Jorge Rodriguez Descanso en Paz. Please consider donating to help his family with funeral expenses. @KeyPta @EscuelaKeyAPS @HBWProgram @YorktownHS @APSKenmore
https://t.co/OC5cd3mW9t

— #TiredTeacher (@pondfamily) September 24, 2023
The Arlington County Board briefly discussed the 16-year-old's passing on Saturday.
Reading from texts he received, Board member Takis Karantonis said it was possibly an overdose, amid attempts by Chair Christian Dorsey to interject.
"Whatever the circumstances, it's a tragic thing, and I'm really devastated and heartbroken about this," Karantonis said.
Dorsey cut the the discussion short, saying that "resources are going to be made available to the students next week [and] details are not known at this time."
In a statement, community activist Janeth Valenzuela said adults and responsible citizens need to act quickly or risk losing more children to death and addictions.
"We want to make changes, now," she said. "Not tomorrow, today. Let us not allow this death to be one more of others, let us use this pain that burns our soul to gain momentum and defend our children and the children of our community with our claws."
This regularly scheduled sponsored Q&A column is written by Eli Tucker, Arlington-based Realtor and Arlington resident. Please submit your questions to him via email for response in future columns. Video summaries of some articles can be found on YouTube on the Eli Residential channel. Enjoy!
I've written this weekly column for 8 (!) years and made plenty of social media posts for my business, yet my most viral moment (by a long shot) came two weeks ago from…a picture of a bird! But not just any picture of a bird, it was a BALD EAGLE with a RABBIT in its talons! In Arlington!
So even though this has nothing to do with real estate, I thought I'd share with everybody the photo below that went "viral" and got almost 4,500 likes/interactions and 350 shares in the Virginia Wildlife Facebook Group. And later written about in The Zebra, an Alexandria-based publication.
I live in Alcova Heights and was walking to Thai Square (best Thai food in Arlington) for dinner with a friend when we turned the corner onto S Glebe Rd, just north of Columbia Pike, and saw this eagle perched on the wall with a freshly caught rabbit hanging from its talons. It sat there for a while posing for photos and letting us gawk, until taking off in a low glide across the parking lot, with the rabbit hanging below it. The wingspan must have been 6-7+ feet.
Check out how close it let us get in the video below, which I stopped filming as soon as it turned and looked me directly in the eyes and I decided my life was more important than continuing to film!
If you've captured some crazy wildlife photos in Arlington, let's have it shared in the comments section!
If you'd like to discuss buying, selling, investing, or renting, don't hesitate to reach out to me at [email protected].
If you'd like a question answered in my weekly column or to discuss buying, selling, renting, or investing, please send an email to [email protected]. To read any of my older posts, visit the blog section of my website at EliResidential.com. Call me directly at (703) 539-2529.
Video summaries of some articles can be found on YouTube on the Eli Residential channel.
Eli Tucker is a licensed Realtor in Virginia, Washington DC, and Maryland with RLAH Real Estate, 4040 N Fairfax Dr #10CA
0
Comments
Arlington Travel Basketball (ATB) will be conducting tryouts for our 2023-24 teams beginning Tuesday 10/2.
There is no charge for these tryouts.