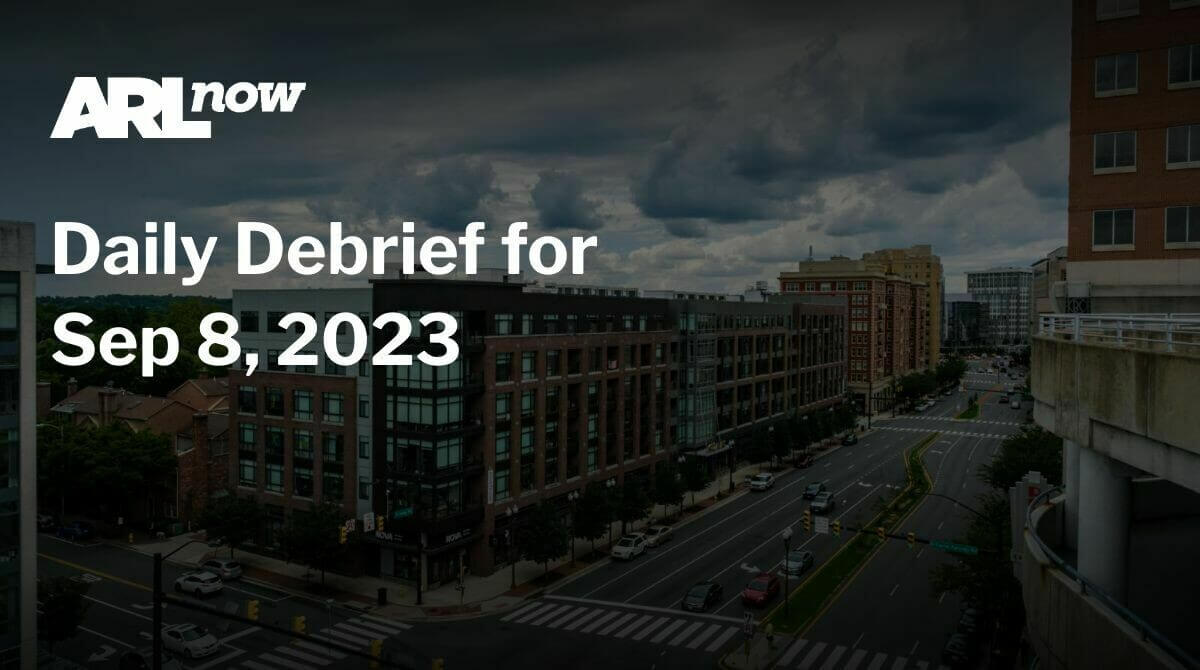 Good Friday evening, Arlington. Let's take a look back at today's stories and a look forward to tomorrow's event calendar.
🕗 News recap
The following articles were published earlier today — Sep 8, 2023.
Since it's Friday, we've also compiled a list of the most-read articles of the week, below.
📅 Upcoming events
Here is what's going on Saturday in Arlington, from our event calendar.
Here are the events planned for Sunday:
🌦️ Saturday's forecast
There is a slight chance of showers and thunderstorms in the morning, with the possibility of showers continuing until 11am followed by showers and thunderstorms later in the day. The weather will be mostly cloudy with a high of 87°F and a light variable wind from the south. On Saturday night, expect a 50% chance of showers and thunderstorms with a low temperature of around 70°F and a southeast wind at 5 to 9 mph. See more from Weather.gov.
💡 Quote of the Day
"Change is the law of life. And those who look only to the past or present are certain to miss the future."
– John F. Kennedy
🌅 Tonight's sunset
We hope you have a great weekend, Arlington! Feel free to discuss the most-read stories of the week, the upcoming weekend events or anything else of local interest in the comments. 👋
Recent Stories
Makers Union, an upscale gastropub, is set to open its doors in Pentagon City next week, says Alex Brown, the restaurant's director of operations. This opening marks the third Makers Union location in the D.C. Metropolitan area, following the debut of its Reston location three years ago and a recent opening at the Wharf in early October.
Children's Weekday Program (CWP) is a non-profit preschool rooted in a play-based philosophy. We focus on developing a love of learning and exploration, cooperation, empathy, and independence.
Our caring and experienced educators create opportunities for children 16 months to 5 years old to play, learn, and grow in a nurturing environment of child-centered and developmentally appropriate experiences.
Initially established more than 50 years ago in South Arlington, CWP continues to be a lauded program in the Northern Virginia area. We are extremely proud to have been recognized as a Best Preschool in Northern Virginia Magazine for the last 4 years.
Located now in North Arlington at 2666 Military Road, CWP offers a part-time parents day out and preschool program with options to extend care both before and after school. We offer a supportive and inclusive school community for children and parents alike and welcome all families to join our school!
The Optimist Club of Arlington is holding its 77th annual Christmas tree sale!
This year, the tree sale will be held at the Knights of Columbus (5115 Little Falls Road). The lot opens for sales on November 24th. The Optimist Club is selling small and large trees ranging from tabletop size to 10 foot tall trees! Wreaths, garland, tree stands, and White House Christmas ornaments will also be for sale.
100% of all proceeds go towards helping Arlington County youth.
For more information, please visit the Arlington Optimists website at https://optimistclubofarlingtonva.org/.
Holiday Art Show featuring artists: Peter Fitzgerald, Claire Plante, Alanna Rivera, and Suzy Scollon. At the Barcroft Community House, 800 South Buchanan St., Arlington, VA. Dec. 8 from, 2 PM to 8 PM and Dec. 9 from 10 AM to
2023 Christmas Tree Sales Begin
Saturday, December 2
Get your holiday decorating off to the right start this year! We will be selling 150 Fraser firs, freshly cut and delivered from Sparta, North Carolina.
Sale Hours: